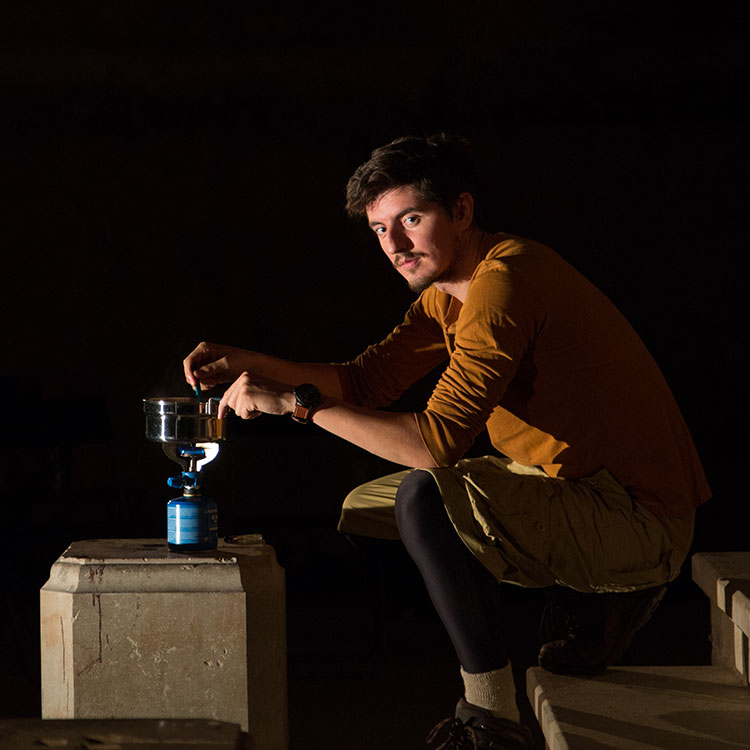 Tomáš TUREK, Divadlo DPM (SK): Útek od divočiny
Podujatie sa uskutoční v rámci 28. ročníka medzinárodného festivalu divadla jedného herca Sám na Javisku 2022
Stále ťažšie a ťažšie, s väčšími rozpakmi, oslavujeme akýkoľvek technologický pokrok ľudstva. Všetko sa pomeriava predovšetkým škodami, ktoré človek svojou aktivitou napácha. Každodenná spotreba = nárast záťaže celého systému. Je riešením vzdať sa pobytu v spoločnosti a individuálne utiecť do prírody? Alebo je to len alibizmus – zdanlivé zbavenie sa zodpovednosti? A koľkí vlastne môžu takto odísť a aké to je – žiť v/o samote? Aké nástrahy na človeka čakajú, čo sa človek naučí a dozvie, čoho je ochotný vzdať sa? Do akej miery sme závislí na permanentej komunikácii s rodinou, priateľmi, známymi, ale aj so svetom – pahltní po neustálom príjme impulzov, správ, informácií – zaháňajúc strach z nudy, zastavenia… A čo na to P. O. Hviezdoslav? A čo na to iní ? O tom všetkom s jedným hercom v opustenej synagóge, ktorou kráčali dejiny. Tomáš Turek tu premýšľa a spieva, kam vlastne ďalej v(y)kročiť… A… A baví ho to.
Réžia a výber textov: Šimon Ferstl
Dramaturgická spolupráca: Miro Dacho
Svetelný design: Slavomír Šmalík
Produkcia: Hana Bodáková
Hrá: Tomáš Turek
Recenzia : https://mloki.sk/dielo/utek-od-divociny/
Dobrovoľné vstupné
Podujatie z verejných zdrojov podporil Fond na podporu umenia – hlavný partner a Mesto Trenčín.