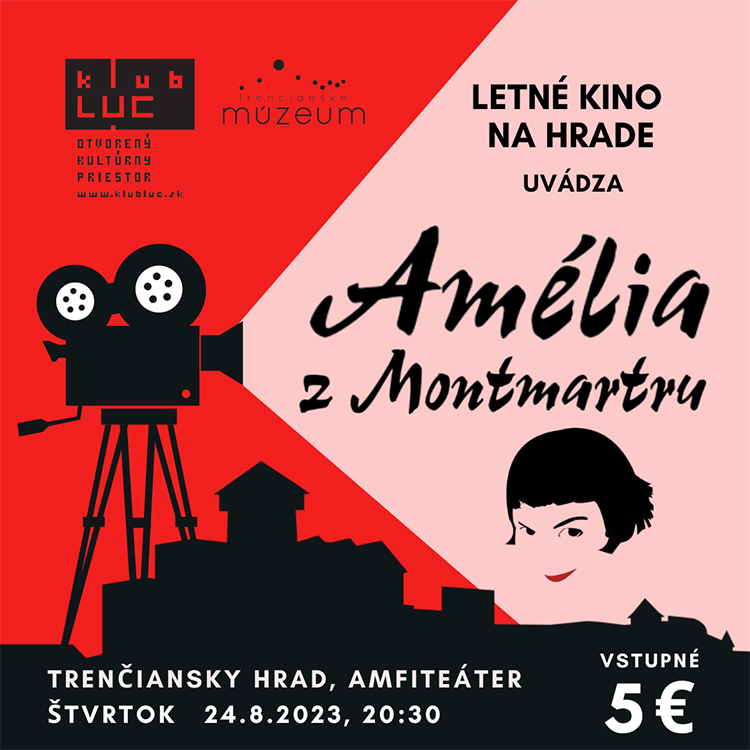 Letné kino na hrade: Amélia z Montmartru
Trenčiansky hrad v spolupráci s Klubom Lúč Vás pozývajú na Letné kino na hrade! Kvalitná svetová kinematografia v príjemnom prostredí.
Amélia z Montmartru
Réžia: Jean-Pierre Jeunet
Rok výroby: 2001
Krajina pôvodu : Francúzsko
Minutáž: 117min
31.augusta 1997 o 4.hodine ráno dostala Amélia (Audrey Tautou) nápad. Musí stoj čo stoj nájsť dávneho majiteľa krabičky spomienok, ktorú náhodou našla vo svojom byte a poklad mu vrátiť. Ak to ocení, je rozhodnuté a Amélia začne zasahovať iným ľuďom do života… Kultovú romantickú komédiu o nesmelej Parížanke s láskavým srdcom milujú vďaka jej hravosti a pôvabu milióny divákov po celom svete. Film o drobných, ale o to dôležitejších radostiach, ktorý získal množstvo prestížnych filmových ocenení, ani po 20 rokoch od premiéry nestratil nič zo svojho šarmu.
Amélia žije v parížskej štvrti Montmartre, ktorá je svetom sama pre seba. Je servírkou v miestnom bistre, nakupuje u miestneho zeleninára a zdraví susedov ako v malom meste. V jej živote sa nikdy nestalo nič zvláštneho, až na kurióznu smrť jej matky, za ktorou Améliin otec stále smúti. Amélia by asi zostala zmierená so svojim osudom, keby jedného dňa neobjavila vo svojom byte ukrytý poklad v podobe starej krabičky s pamiatkami na detstvo niekdajšieho nájomníka. Nielenže sa Amélie rozhodne po rokoch doručiť krabicu jej majiteľovi, ale dospeje súčasne k poznaniu, že môže pomáhať zlepšiť a napravovať okolitý svet. Keď potom jedného dňa objaví človeka, ktorý zbiera nevydarené podobizne cudzích ľudí zo staničných fotoautomatov – zamiluje sa na prvý pohľad. Trvá to však ešte nejaký čas, kým sa zoznámi s Ninom a kým mu dovolí rozšifrovať jej tajomné správy.
vstupennky si môžete zakúpiť TU